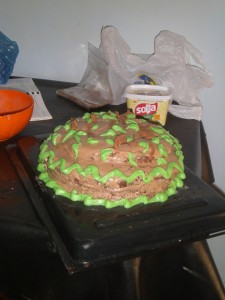 Okay, a warning before you look at the attached picture… I made a birthday cake for a young woman in the branch today.. Haha I don´t have your gift. And it didn´t help that the frosting was normal one second and melting the next due to the heat.. You might wanna sit down before you fall down laughing.. Haha it´s super crooked and looks like something out of a Dr. Seuss book. I wasn´t gonna send a picture, but I thought to myself, ´Hey self, Mom might need a laugh today.´ So there ya go. As long as it tastes good, we´re satisfied. 🙂
As for the piano thing, don´t get too excited.. it´s super rough… I found a ´Hymns made easy´ book in the house and only with lots of practice can I stumble through a song. When we don´t have lunch appointments, we go to the chapel to practice a bit. Anyway, it´s definitely nothing close to professional, but I´m doing what I can and praying for lots of grace as I sit down on the bench. Please make sure the boys keep practicing ever day..
I´m happy to hear about the solid examples that the boys are being. More often than not, we think of missionary work as proselyting and working with people that aren´t members of the Church. But even active members of the Church need to be invited to come more fully unto Christ, and that is somthing we can do through our words and our examples. Keep up the good work, boys! ¨Be not weary in well doing, for ye are laying the foundation of a great work. And out of small things proceedeth that which is great.¨(Doctrine and Covenants 64:33)
I´ve been thinking a lot this week about Jesus Christ and how He is the only way to be able to get Home. He is our Savior and our Redeemer. I´ve thought repeatedly on Mosiah 3:17, which says that ¨there shall be no other name given nor any other way or means whereby salvation can come unto the children of men, only in and through the name of Christ, the Lord Omnipotent.¨ We had a lesson yesterday with a woman that insisted that she can pray to Jesus, Mary, and all of her Saints because they´re all basically the same. And until that lesson, I never really understood that scripture. That is, I never really felt it and believed it as much as I did as I testified that Jesus Christ is the only one that can get us to our Father in Heaven´s presence again. He is the only one that can save us from ourselves. And if we don´t go to Him with all our energy, all our heart, all our will, we cannot be saved in the Kingdom of God. Something I knew before, yes. But something that the Spirit recently wrote upon my heart. Something that I hope to continue writing upon my heart so that that name may then flow throughout my entire body. To my feet, that I may go wherever He may send me. To my knees, that they may readily bend in faith and humility. To my hands, that they may always be found in the service of others. To my shoulders, that they may bear the burdens of those that are heavy laden. To my mind, that my thoughs may be pure. To my eyes, that I may see all people as inheritors of the Kindgom of God. And to my mouth, that I may continually testify of Him and His infinite and saving Atonement. There truly is no other way. And if our focus isn´t completely on Him, where is it? Where are we? Before coming here, my focus wasn´t completely on Him. I was writing lots of things on my heart- Facebook, school, work, tv shows- but I wasn´t writing the name that really matters. And I hope and pray that the Lord will continue to engrave His name upon my heart, His countenance upon my own, so I may be recognized be Him as His own in the day that I stand before Him.
I hope you all have a wonderful week, and that you find and act on opportunities to share this name and this path with all those around you. Because there is really nothing more important. Go bless a life today! 🙂
I love you!
Hermana Pingel